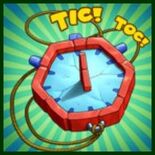 This is the master page which lists all "Timed Quests" that may be released in the game. Currently there are 3 major categories of timed quests that may pop up during a player's game.
There are weekly timed quests which are generally released throughout each week beginning early on Tuesday mornings. You can find those listed here and the newest will also be linked to the Main page each week. This category has 3 different player levels.
Then there are what we refer to as "Timed Expansion Challenges" (TECs) that pop when a player opens some of the expansion areas. Click here for a (sortable) Full List
There are also "Experience Timed Quests" which may pop when a player reaches a new level. Click here for a (sortable) Full List
When a quest pops up it may be timed daily or weekly. It is best to look at the screenshots in this NRC Wiki to make a plan for your quest. All of the timed quests are OPTIONAL. None of these timed quests are required to continue the game, and are meant as extra challenges to make the game fun with nice rewards! Once a quest runs out of time it is done.
(Hint: Pay attention to your progress, or more than 1 timed quest may pop at the same time)
Tic! Toc! Happy Questing!
Dragon Princess' Tower, Halloween Island, or Druid Dinosaur
Greek Tenement, Mask on Pebbles, or Succulent Terrarium
Halloween Stand, Costume Rental, or Tree of Cats
Fairy's Corner, Candyfloss Island, Art Gallery Interior, or Dragon Princess Tower
Tower of Pizza, Cookie Estate, Dancing Mouse, or Panda Dessert
Picnic Hill, American Diner, Fashion Design Studio, Chocolates Store, or Panda House
Chocolate Island, Cavemen's Island, or Candyfloss Island
Cloud Ship, Cat by the Water, or Cactus Family
Banana House, American Pegasus, or Steampunk Ship
Spring Birds, Panda on a Swing, or Hamster Island
Easter Island, Irish Fox, Sheep in Lupine, Artistic Cat, Cloud Ship, or Ice Fox
Bear Waking Up, Panda House, or Animals House
Aztec Ship, Dragon Kingdom, or Dragon Ship
Pirate Island, Kangaroo Valley, or Globe on a Pedestal
Tigers' Island, Cactus Park, or Wild Village
Ocean Cleanup and Eco Island
Tree Skyscraper, Fan House, or Tree Mansion
Watering Can House, Earth In An Aquarium, Peony House or Dino Rollercoaster
Apple-Pie Island, Fortune Cookie Store, or Bird Island
Animal Spa, Senior Disco, or Health House
Hipster Cat Lady's House, Roof Garden House, or Watering Can House
Chinese Restaurant, Capitol House, or Lemonade Factory
Fan House, Police Officer's House, or Empire State Building
Potion Factory or Fashion Design Studio
Flying Dog, Dog Island, Mass Media Island, or Animal Island
Walk With Corgis, Police Dog, or Dog House
Texas Dog, York Cheerleader, or Pet Accessories Fair
Dreamer Island, Art Gallery Interior, or Mass Media Island
Talk Show, Abstract House, or Pretty Squirrel
Mask Theatre, Wedding Venue, or Flower Garden
Water Pen, Oceanarium, or Ocean Cleanup
Orca, Water Mud Hut, or Water Pyramid
Dancing Shark, Earth in an Aquarium, Sirens in Aquarium, or Moon House
Sloth Pen, Panda Island, or Red Pandas Reserve
Cat by the Water, Walk With Corgi, and Animal Spa
Cycling Bear, Monkeys in a Hot Spring, or Dino Teddy
Scenic Hill or Beach Volleyball Island
Summer Dragon, Hawaiian House, or Kite Scarp
Summer Penguin, Balloon Travel Machine, or Picnic Hill
Candy Factory, Cookie High-Rise, or Lemonade Factory
Juice Bar, Ice Cream House, or Panda Dessert
Charming Coffee Shop, Fruit House, or Waffle Truck
Cavemen's Island, Ski House, or Beach Volleyball Island
Baseball House, Rodeo House, or Dancing Mouse
Wild Village or Colosseum
Cupid's House or Chocolate Island
Cookie Estate, Panda Dessert, or Wedding Venue
Waffle Truck, Romantic Dinner, or Chocolates Store
Dog Island or Apple-Pie Island
Senior Disco or Tower of Pizza
American Pegasus or Steampunk Ship
Mammoth Island or Ship House
Chinese Water Palace or Fishermen's Ship
Frog On Water Lily or Sirens in Aquarium
Animal Roundabout or Cavemen's Island
Semi-Detached House or Baseball House
Coffee Roasting Plant or American Diner
Animal Island, Spring Birds, or Cap and Bells Tower
Art Nouveau Tenement, Fan House, or Dancing Mouse
Peony House, Llama Dragon, Jack in the Box House, or Moon House
Ocean Cleanup, Dragon Ship, Ship House, or House Inn
Leprechaun's House, Pizza Stand, or Rainbow Slide
Sirens In Aquarium, Frog On Water Lily, Dancing Shark, or Earth in an Aquarium
Dragon Pinata, Flying Dog, or Candyfloss Island
Rainbow Slide or Leprechaun's House
Dino Rollercoaster, Waffle Truck, or Dinosaurs in the Pool
Memorial Tree
Dino Hero
Souvenir Shop
Flower Fan
Dino Mom and Child
Leisure Island for Moms
Dragon Pinata
Cactus Family
Cactus Tenement
Music House
Dancing Vixen
Hawaiian Dance Studio
Continental Tree
Globe on a Pedestal
Earth in an Aquarium
Stack of Artistic Materials
Artistic Cat
Fashion Design Studio
Easter Tree
Dressed-Up Chicks
Egg Hunt 2020
Dragon Princess' Tower
Flowers on a Flower
Jack in the Box House
Spring Birds
Sheep In Lupine
Roof Garden House
Saint Patrick's Tower
Irish Fox
Rainbow Waterfall
Panda On a Swing
Panda Dessert
Panda House
Green Woman Statue
Pretty Squirrel
Changing Room
Druid Dinosaur
Wizard Dinosaur
Dinosaurs in the Pool
Cap and Bells Tower
Mask On Pebbles
Mardi Gras Block
Valentine's Day Fountain
Valentine's Day Plant
Chocolates Store
Raccoon with Pizza
Pizza Stand
Pizza Box House
Groundhog Pen
Groundhogs In Bed
Top Hat with Groundhogs
Fortune Cookie Store
Dancing Mouse
Mouse Park
Ice Skate Store
Ice Fox
Animal House
Carnival Tower
Ostrich in a Carnival Mask
Brazilian Carnival Ship
Ice Disco Club
Mouse on a Firecracker
Ice Floe Party
Christmas Arbor
Ice Spiral
Christmas Carousel
Christmas Tree Store
Yellow Bauble
Snow Globe Town
Candy Factory
Turtle the Bobsledder
Ice Floe House
Saint Nicholas in Hot Chocolate
Saint Nicholas Giving Gifts
Snowboarding Turkey
Thanksgiving Meeting Hall
Hedgehog With A Chestnut Hat
Autumn Exhibition
Large Carrot
Pole Vault
Autumn Swing
Autumn Ship
Vampire Bear
Pumpkin Party
Giraffe Mummy
Halloween Ship
Full Hamster
Food Pyramid
Botanist
Microscope House
Animal Pyramid
Masquerade Contest
Bavarian Waiter Bear
Big Beer Mug
First Grader Rabbit
Broom Race
Hurt Bird
First Aid Training
Grandpa Dinosaur with Grandchild
Porch Hut
Working Dinosaur
Stone Throw Competition
Woman Fountain
Amazons' Island
Kitesurfer
Sand Fortress
Arcade Game
Youth Island
Dragon Rumors
Birthday Party
Dinosaur With A Donut
Dog Training Ground
Ice-Cream Stand
Cliff Houses
Cocoa Tree
Chocolate Cake House
Motorcyclist Convoy
Superhero's High-Rise
Fishing Bear
Fishing Competition
Cat Playing the Koto
Violin Fountain
Hunting School
Garage
White Whale
Ocean Treatment Plant
Children With Pig
Play Fort
Uniformed Dinosaur
Veteran's Stories
Armored Dinosaur
Museum of Architecture
Pangolin Mother and Baby
Nail Studio
Experience Challenge: Shark Crew
Donkey Pinata
Mexican Parade
House of Books
Reading Room
Pterodactyl In An Eggshell
Experience Challenge: Moment of Peace
Big Egg Construction
Rocket Boat
Cosmic Carousel
Ram the Physician
Experience Challenge: Ent Forest
Healthy Food Fair
Water Spraying Flower
Pranks Stand
Experience Challenge: Jelly Bean Shop
Spring Flowerbed
Gnomes' Balloon
Gnomes' Concert
Experience Challenge: Sporty Animals
Fox With A Wreath
Interior Design Studio
Feathery Dinosaur
Dino Parade
Experience Challenge: Stationery Shop
Bee With A Book
Spelling Contest
Valentine Box
Valentine Island
Experience Challenge: Lemur Family
Chinese Pig Park
Groundhog Burrow
Challenge: Clothes Store
Waiter Sheep
Pastry Shop
Snow Panther
Hot Beverage Stand
Challenge: Seal Family
Carnival Ball
Fireworks Cart
New Year Clock
Community content is available under
CC-BY-SA
unless otherwise noted.